Feed Formulation Software Experts
HYBRIMIN® is a feed formulation software solutions & service provider that supports the animal feed industry with advanced technology solutions.

Built around an extensive animal nutrition database, our system has built-in flexibility to accommodate any specific nutritional requirements, a gentle learning curve and an extensive support program.
Our feed formulation software solutions: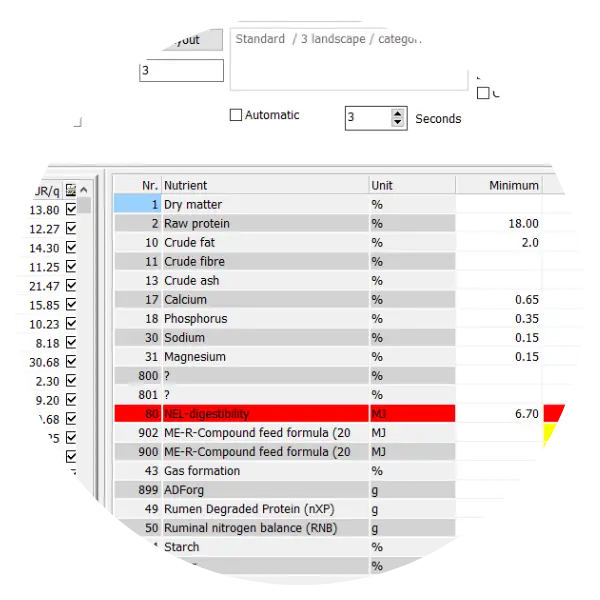 HYBRIMIN®
WinFumi 9.5
HYBRIMIN® WinFumi 9.5 is software for the compound feed industry.

The focus is on the creation of mixtures using linear optimization to minimize costs and the associated identification (declaration).
The software is suitable for all animal species (feeding systems) and all languages worldwide.
Includes HYBRIMIN®'s own database with full labeling regulation of the European Union.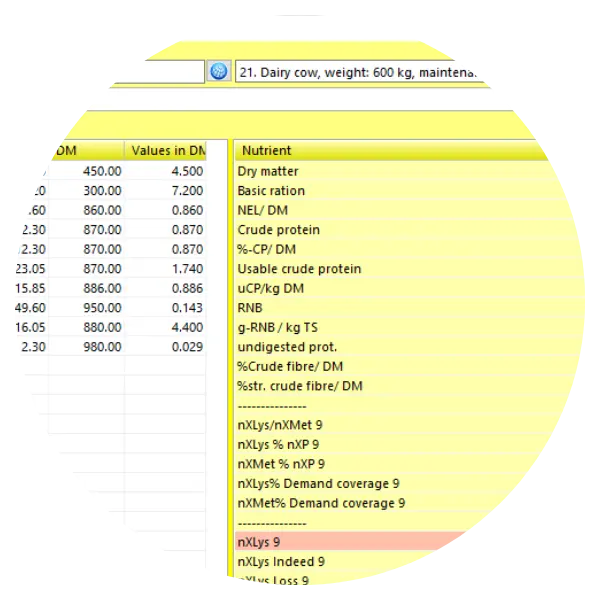 HYBRIMIN®
Futter 5
HYBRIMIN® Futter 5 is a user-friendly feed calculation software for sales consultants, animal breeders, veterinarians, farmers or animal nutritionists.

Optimal daily rations can be created in short time for all farm animals or pets, while keeping the focus on quality, savings and optimization.
HYBRIMIN® Futter 5 is available in 31 languages and different feeding systems for worldwide use.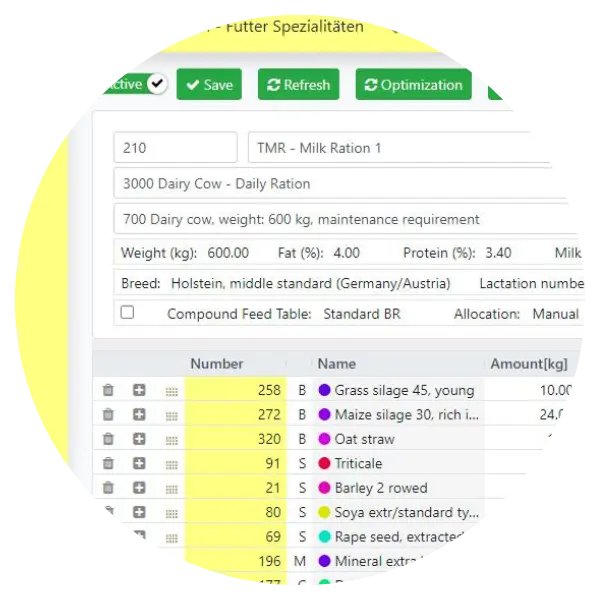 HYBRIMIN®
Futter X
From Summer 2023:
HYBRIMIN® Futter X is a feed calculation software that can be used online or locally. Designed as a collaboration tool for employees within a company, or advisors with farmers, any user can share data with the other users. Especially raw materials and recipes (daily rations or mixtures).

Available in all languages, with own complete database that can be used worldwide.
HYBRIMIN® will attend EuroTier 2024
Date: November 12 – 15, 2024
Location: Hannover, Germany
We announce our upcoming participation in the well-known animal nutrition trade show EuroTier, in Hannover, Germany.

We look forward to it, as an opportunity to connect with our clients from around the globe.
We'll be available to answer your questions and showcase our solutions, including WinFumi, Futter 5, and our most recent solution Futter X, in addition to our latest developments.
Huge database
In feed calculation software data is very important!
HYBRIMIN® has been creating its own database (with ingredients, raw materials and sample recipes for years), that can be changed and expanded as desired – or even completely deleted. Of course, every user can also create an own database to meet their specific needs.
Different feed calculation models used worldwide can be integrated, provided the licenses for this are available.
All data can be used multilingually and is created by HYBRIMIN® in more than 30 languages.
Easy to use
The user interface is one of the key differences between the available feed calculation software on the market.
How many steps are necessary to reach the desired outcome?
HYBRIMIN® software programs are usability-optimized. One only need few mouse clicks in order to calculate or optimize a recipe.
At the same time, the number of screens / actions for performing tasks is minimized.

The basic settings need to be applied only once in the so-called system area, thus making the daily work easier.
Support
A very important point when buying feed calculation software is after-sales support!
HYBRIMIN® relies on animal nutrition experts who own a degree in agricultural science or food technology.
At HYBRIMIN®, there are real people answering the support calls or emails within the normal German office hours and an uncomplicated customer care system.
HYBRIMIN® does not use answering machines or ticket systems where users do not have a personal contact person.
Animal categories in our feed formulation software
Cattle rearing: young cattle, rearing calves, breeding bulls, fattening calves
Fattening cattle: Black and White cattle fattening, cattle fattening, Red Holstein cattle fattening, intensive fattening, heifer fattening, ox fattening, shot fattening, fattening calves, heifers
Cows: Milk performance feed, dairy cow, dry cow, cow, young cattle, rearing calves, breeding bull, young bull, buffalo (cow, calf, bull, working buffalo, fattening buffalo),
Breeding cattle: stud bull
Sheep: ewe, ram, ewe, milk ewe, ram
Goats: pygmy goats, milk goats, billy goats
Wild: Red deer (calf, lactate, old animal, stag), fallow deer (calf, lactate, old animal, stag), roe deer (calf, goat, buck)
Llama and alpacas: stable, grazing, winter, carrying, suckling
Pigs: gilts, young boars, pregnant sows, lactating sows, sows (weaning to mating), breeding boars, piglets, fattening pigs, organic feed (piglets, fattening, pregnant/lactating sows)
Horses: sport horses (maintenance, light work, light work, middle work, demanding work, heavy work, racing), pregnant mares, lactating mares, stallions, foals, small horses/ponies/donkeys (maintenance, light work, middle work, gestation, lactation, stallions, foals)
Poultry: chickens (layers; breeders, chickens, pullets, broilers, broilers), chickens Ross (parents, starter, developer, pre-breeder, breeder, broiler starter grower, finisher, chickens Lohmann Brown, Lohmann LSL Classic, Lohmann LSL Lite ( US), Lohmann LSL & LB PS, Nick Chick US, Super Nick & Nick Chick, Brown Nick (US) (laying hens; chickens, pullets), turkeys (chicks, young turkeys, breeding turkeys, fattening turkeys), ducks (fattening ducks, breeding), Geese (chicks, breeding geese, fattening geese), guinea fowl (chicks, breeding, rearing, fattening), quail (chicks, laying quail, breeding, rearing), pigeons (breeding, flight, moulting, winter, journey, fattening), ostriches, turkeys ( breeding, fattening), organic poultry (chickens, pullets, layers, broiler chicks, broilers, fattening ducks, geese, broilers, turkeys)
Wildfowl: pheasants (chicks, young pheasants, breeding pheasants)
Ornamental birds: parrots
Dogs & cats: Dogs (maintenance, light exercise, medium exercise, strong exercise, pregnant, suckling, puppies) breeds up to 6 kg, 7-15 kg, 16-30 kg; 31-55 kg, from 56 kg, cats (maintenance, light movement, medium movement, strong movement, pregnant, lactating, kittens), big cats (maintenance + light movement, maintenance + little movement)
Small animals: dwarf rabbits, hobby rabbits (pregnant, suckling, young rabbits), guinea pigs (growing, pregnant, suckling), rats (growing, pregnant, suckling), mice (growing, pregnant, suckling), hamster, chinchilla
Fishes: trout (brood, spawn, fattening), salmon trout, carp (brood, fattening), sturgeon (brood, fattening), dwarf catfish (brood, fattening), eel (brood, fattening), koi (starter, rearing, standard), Tilapia (USA, Nigeria, West Africa, Nile), Catfish (West Africa, Nigeria), Goldfish
Zoo animals: elephants, camels, wild ruminants
We operate in over 40 countries
Since 1979
HYBRIMIN® was founded in 1979 by the agricultural engineer Manfred Gabriel. Previously, he was responsible for ration design, premix calculation and compound feed production at various companies.
This wealth of experience influenced the development of the software right from the start.
HYBRI-MIN
The name HYBRIMIN comes from HYBRIdsauen-MINeral (mineral feed for HYBRID sows).
In the early years, HYBRIMIN® also had its own mineral feed produced and marketed it under the name HYBRIMIN®.
Own database
Many feed calculation software manufacturers do not have their own database. Therefore, a user must have a lot of experience in creating one.
In years of work, with extensive know-how, data from a wide variety of sources has been entered into HYBRIMIN®'s own database and kept up to date.
Would you like a free trial period
or a live presentation?
Or maybe both?
Get in touch with us and we will help with your personal requirements.