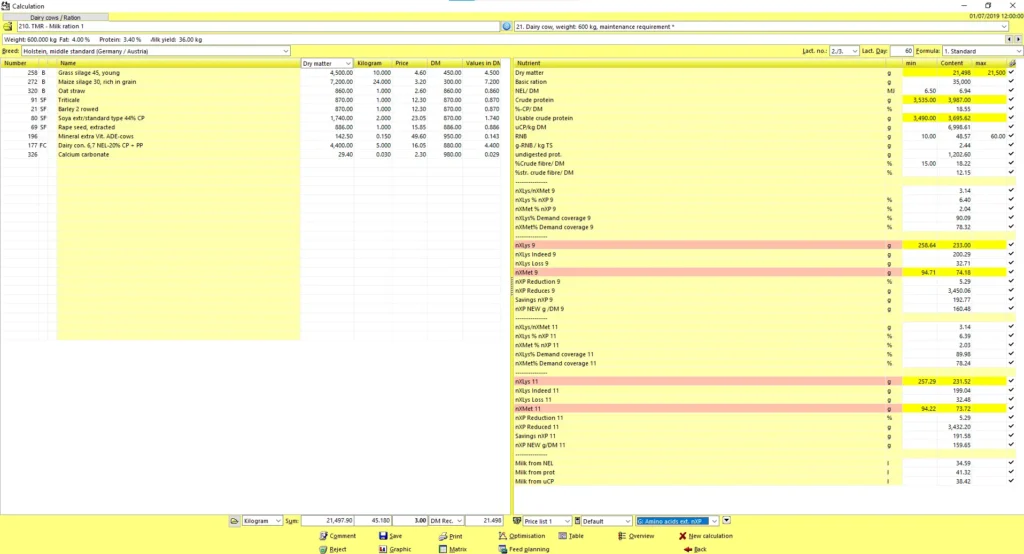 The simplest feed balancing software
HYBRIMIN® Futter 5
More than 5,000 feed consultants, veterinarians, and farms use an HYBRIMIN® feeding program for feeding advice.
A major advantage of the program is that all livestock and pets, as well as mixtures and individual animal rations, can be calculated. There are extensive export and import interfaces for the exchange between different feeding consultants, so that data can be easily exchanged within a company, but also between companies.
The simple operation as well as the diverse printout options help the feeding consultant when working on the farm.
Of course, using the HYBRIMIN® Futter 5 on farms is just as easy.
With the so-called system area, which is password-protected, it is possible to integrate your feeding concepts into the program at any time. The program is equipped with the HYBRIMIN® database complete with German feeding standards, but can also be expanded or changed at any time to DVE (Netherlands), APD (Switzerland), PDI (France), e.g. in the dairy cow sector. Other energy standards such as ME or NE for pigs can also be entered by the user at any time.
Since HYBRIMIN® Futter 5 runs completely independently (no Excel necessary), the learning effort is very low for existing animal nutrition knowledge. Normally, we assume 2 to 3 hours to create the first daily rations or mixtures after entering the raw material analyses.
The product range of our feeding programs includes the Futter 2000, Futter 2003, Futter 2006, and Futter 2008. The current version is the HYBRIMIN® Futter 5.
Test the HYBRIMIN® Futter 5 for two weeks without obligation or have it demonstrated online without obligation.

Animal nutrition
The HYBRIMIN® database includes 400 feedstocks with a total of 38,000 nutrient values. These are revised from time to time. They are based on the ingredients in the Weende analysis, supplemented with common German ingredients and freely available analysis values taken from various tables. The user can alter all raw materials and ingredients according to their own feedstock analyses.
HYBRIMIN® Futter 5 also includes data for bio-feed calculation!‍

The database includes around 1,500 requirement groups (feed specifications) for a variety of animal categories with about 22,000 min-/ max values. To see what these values are based on, follow this link to the Society for Nutritional Physiology website (German).
Important: Almost every HYBRIMIN® customer with multiple licenses can access a database with their own raw material analyses, which often contain analysis values that are not freely available! The same applies to the requirement groups and feed specification. Of course, other feeding systems with ingredients that are not common in Germany are also possible in the program.

Program
Includes an address file (businesses), a feedstock file and a feed recipe file.
The number of records is unlimited.
All existing data can be changed at any time.
Feedstock can be blocked to prevent alterations.
Allows up to 999 ingredients per feedstock.
Daily rations for each type of animal (e.g. dairy cows) or mixes (e.g. pigs) can be calculated or even improved using linear optimization.
Results can be printed out, saved as PDFs or automatically sent as an e-mail attachment.
An unlimited number of rations/mixes can be saved.
Further information provided upon enquiry.

Languages
HYBRIMIN® Futter 5 is offered as a purely German-language program or in any of the other available languages (see below). In addition, there is a multilingual version, that holds a datafile of all the available languages and which allows one to work in German and then print in another language, e.g. Russian.
The HYBRIMIN® Futter 5 multilingual version currently includes: Albanian, Arabic (Saudi Arabia), Bulgarian, Chinese (Mandarin), Danish, German, German (Swiss), English, Estonian, Finnish, French, Greek, Italian, Kazakh, Croatian, Latvian, Lithuanian, Dutch, Norwegian, Polish, Portuguese, Czech, Swedish, Serbian, Slovenian, Slovak, Spanish, Turkish, Hungarian, Romanian, Russian and Ukrainian. Additional languages can be created at any time. In the multilingual version, a customer can also translate the data himself into other languages according to his own wishes.
Each language has around 15,000 words in the database. In total, the multilingual database has an agricultural lexicon of about 470,000 words. The program is used in over 40 countries.

Licesing
After paying the purchase price, the user has unlimited access to the software. Every 2 years there is a free reactivation for a further 2 years. If there is a new Microsoft® operating system, the program can be updated provided there is an active service contract
All programs are delivered complete with the HYBRIMIN® standard database.
A Program Update Service Contract is offered for all programs. Normally no data is updated.
Further details available upon enquiry.

Manuals
A user manual, an interface manual and an installation guide are supplied.

IT environment
All HYBRIMIN® Futter 5 programs are native Microsoft® Windows programs that run on 32-bit or 64-bit Windows.
Microsoft® Excel or similar are NOT required.
HYBRIMIN® recommends Microsoft® Windows 10 and 11 as the operating system. The minimum required is Microsoft® Windows 7.
On Apple (MacOS) the programs can run with the help of virtualization.
The program comes as standard as a single-user application (only one person can work on the database).
The program requires an internet connection for updates.
All other data, etc., are installed onto the chosen machine via an installation CD or download files.
A free USB-A port is required for the license key.
Test HYBRIMIN® Futter 5 for two weeks or
benefit from an online presentation!
Without commitment.