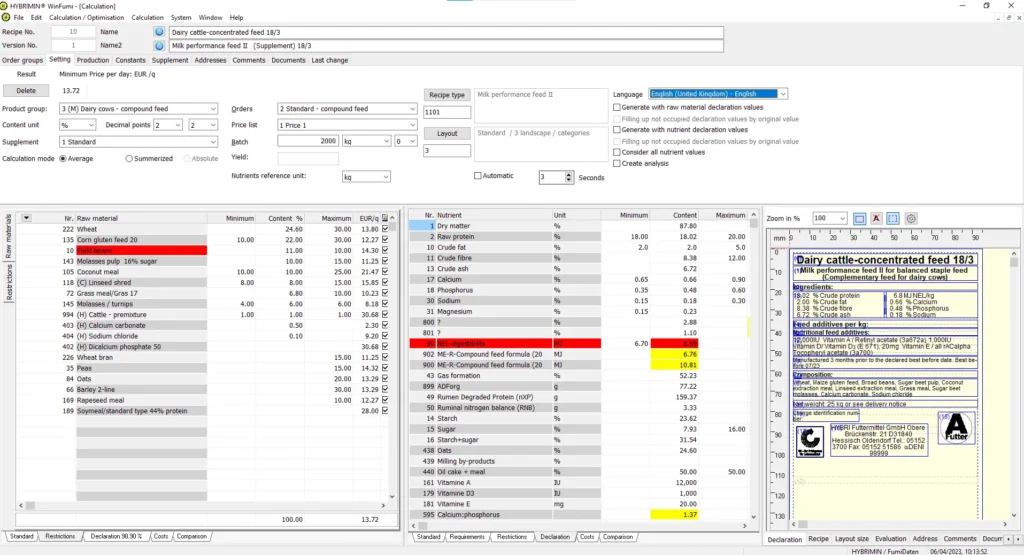 The choice of feed experts
HYBRIMIN® WinFumi 9.5
More than 50% of all feed companies in Germany use the HYBRIMIN® WinFumi for calculation and optimization as well as for labelling.
The HYBRIMIN® WinFumi is also used for product development or research and teaching at many universities/technical colleges in Germany and abroad.
The program can exchange data on networks with process control and/or merchandise management. (e.g. price lists, recipes, declarations, etc.). Completed declarations (markings/labels) can be sent on delivery notes or directly to the bagging system for printing. With the help of the HYBRIMIN® WinFumi 9.5 print module, it is possible to automatically create declarations using a mixed order with additives, e.g. acids.
The HYBRIMIN® WinFumi 9.5 is set up and customized before delivery for each client to meet the specific requirements on feed types and animal species, and then trained on site in the company.
Annual updates ensure that there are always improvements in operation and adjustments to technological requirements, e.g. new Windows operating systems.
Our support employees have a degree in agricultural science or food technology and help quickly with any possible issues.
HYBRIMIN® WinFumi 9.5 can help formulate all possible recipes (and individual animal rations!) for all livestock and pets or, with the help of linear optimization, recipes can also be automatically optimized to the lowest price. Of course, optimal animal nutrition according to performance groups is always the first goal. These include, for example, complete feeds, supplementary feeds, concentrated feeds, milk substitutes, mineral feeds, dietary feeds, pet food and premixes.
The program is completely populated with data. Up to 10,000 nutrients can be entered per feedstock.
The HYBRIMIN® database contains around 500 feedstocks with a total of more than 40,000 individual values. Around 50 product groups (animal categories such as dairy cows, pigs, laying hens, as well as vitamin premixes, mineral mixtures, premixes of all kinds) can be found in the HYBRIMIN® database. A total of around 1,500 different requirement standards with around 20,000 minimum and maximum restriction values are included.
There are also sample recipes for each animal category so that you can try out the program functions quickly and easily.
Naturally, the user can alter, extend or delete all this data. Further data can be imported by an interface.
The database for HYBRIMIN® WinFumi has German or European feed regulations already installed. As alterations are repeatedly made to the labelling over the course of a year, we assume that around 95% of all declarations or labels can be created immediately by the user without any additions. Individual additions are always required when you want to deviate from the minimum requirements of the feed regulations and declare your own specific product.
A special feature of HYBRIMIN® WinFumi from Version 9.0 is the three-fold view in the Calculation/Optimisation screen: Next to the feedstock and nutrients for a recipe, the relevant labelling is also shown. As soon as a recipe is altered, the labelling is updated within seconds!
---
---
There is a Feedstock file, Recipe file and a Declaration file with ready-prepared labelling.
The number of records is unlimited.
All existing data can be changed at any time.
Allows up to 10,000 ingredients per feedstock, with a choice of either original or dry matter.
Mixes for each type of animal, e.g. pigs, can be calculated or even improved using linear optimization.
An unlimited number of rations/mixes can be saved.
Choice of single optimization, batch optimization or multi-optimization.
Labelling is created automatically from existing saved layouts (Appearance) and recipe types (Statutory Feed Regulations).
One can create a ledger of mixes or tonnage consumption and feed amounts.
Results can be printed out, saved as pdfs or automatically sent as an e-mail attachment.
All results can be forwarded to production or merchandise management in over 50 different file formats.
A client module for advising several facilities or clients.
There is a so-called HYBRIMIN® WinFumi print module for automatically updating a label, e.g. by adding an acid.
Further information is provided upon enquiry.

Languages
HYBRIMIN® WinFumi 9.5 is offered as a purely German language program or in any of the other available languages (see below). In addition, there is a multilingual version, that holds a datafile of all the available languages and which allows one to work in German and then print in another language, e.g. Russian.
The HYBRIMIN® WinFumi 9.5 Multilingual Version currently includes: Armenian, Chinese (Mandarin), Danish, German, English, French, Polish, Portuguese, Spanish, Hungarian, Romanian and Russian.
Adding other languages is possible on request. We distinguish between a translation of the program interface (GUI), the database for calculations and the database for marking. A customer can enter data in any language himself at any time.

Licensing
After paying the purchase price, the user has unlimited access to the software. Every 2 years there is a free reactivation for a further 2 years. If there is a new Microsoft® operating system, the program can be updated provided there is an active service contract.
All programs are delivered complete with the HYBRIMIN® standard database for your personal use.
A Program Update Service Contract is offered for all programs. Normally no data is updated.
Further details available upon enquiry.

Manuals
A user manual, an interface manual and an installation guide are supplied.

IT environment
All HYBRIMIN® WinFumi 9.5 programs are native Microsoft® Windows programs that run under 32-bit or 64-bit Windows.
NO Microsoft® Excel or similar is required.
HYBRIMIN® recommends Microsoft® Windows 10 and 11 as the operating system. Microsoft® Windows 7 is the minimum.
On Apple (MacOS) the programs can run with the help of virtualization.
By default, the program is multi-user and network-capable (several people can work on the same database at the same time).
Normally the database and the database server (Firebird) are installed on a server in the network; the clients then receive the client software.
Other installations, e.g. on terminal servers, data centers or cloud systems are possible.
A free USB-A port is required for a license key on a server.
Would you like a free trial period
or a live presentation?
Or maybe both?
Get in touch with us and we will help with your personal requirements.